Preparation of surfaces by galvanizing before dipping in hot zinc
The success of high quality hot-dip galvanizing is in large part on the side of surface preparation. Z-M Tomabo has a modern line for spray and immersion degreasing of steel and etching in acid solutions according to the standard ISO 1461.
Constant laboratory control of individual bath and application of components delivered from verified suppliers from Germany allows you to keep invariant parameters galvanizing process.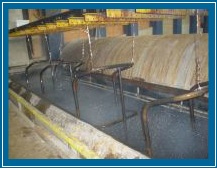 Standard surface preparation does not include abrasive sand blasting.
In order to obtain optimum quality galvanizing surfaces suitable for blasting
(lapping, paint, welding spray) can be cleaned at an additional cost.